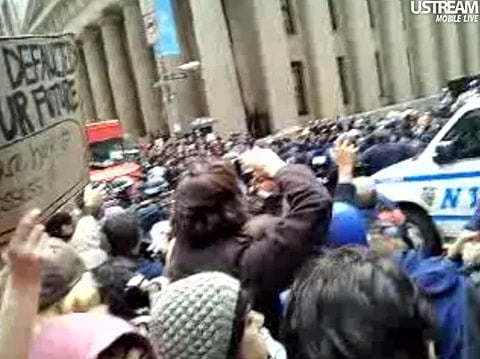 Big march happening now. OWS is attempting to shut down the New York Stock Exchange.
Watch a live stream, AFTER THE JUMP…
NYT update:
Hundreds of protesters attempting to reach the New York Stock Exchange left the area around Zuccotti Park around 7: 40 a.m., clashing with the police near Cedar Street as officers in riot gear tried to block their way.
Many members of the group pushed through lines formed by police, waving signs and banging drums as they moved.
"Sidewalk!" an officer shouted, shoving a protester out of the road.
Another protester held a sign nearby: "Tear down this Wall Street."
About 8 a.m., much of the group had been stymied near Pine and Nassau Streets, as officers installed barricades and arranged themselves in tightly packed rows to prevent passage. Vehicles remained mired in traffic at this intersection, since officers had not been able to close the street in time.
UPDATE: People have been arrested.
Watch a live stream, AFTER THE JUMP…
Global Revolution: