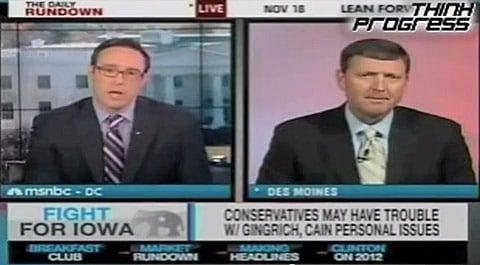 Bob Vander Plaats, head of Iowa anti-gay group The Family Leader, which was instrumental in the ousting of three judges who legalized marriage equality in the state and who has made candidates sign a "marriage vow", is willing to forgive thrice-married adulterer Newt Gingrich for his infidelities, Think Progress LGBT reports.
Last July, Iowa's FAMiLY Leader unveiled "The Marriage Vow: A Declaration of Dependence upon MARRIAGE and FAMILY," a 14 bullet pledge presidential candidates will have to sign to secure any "future endorsement" from the organization and its influential leader, Bob Vander Plaats. The document asked candidates to vow "personal fidelity to my spouse," claimed that same-sex marriage undermines the family, and contained a bizarre reference to slavery.
Said Vander Plaats of Gingrich in an MSNBC appearance this morning: "…we also realize that the cornerstone at the hart of our faith is a thing called forgiveness. We all fall short, but we want to know, is he truly repentful, is he learned, is he ready to move on, is he more mature? And I believe he's addressed this in a lot of situations and I think he will again on Saturday."
Watch, AFTER THE JUMP…