George Clayton, a Republican member of the State Board of Education from Richardson, texas, came out of the closet in an email to constituents following a whisper campaign about his sexuality pushed by GOP rival Geraldine "Tincy" Miller in a bid to recapture her old seat, the Dallas Voice reports.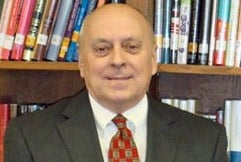 Said Clayton
"It has come to my attention that one of my opponents in my bid for reelection to the State Board of Education and certain member(s) of the Golden Corridor Republican Women's Club are questioning my sexual orientation. So as to avoid the tyranny of misinformation and innuendo in this political race, I wish to say that I, in fact, do have a male partner who lives with me in my home in Richardson, Texas. I hope this frank announcement satisfies Tincy Miller and the ladies associate with the Golden Corridor organization. All of us can now move on with discussions concerning education instead of being overly occupied with my personal life."
The Voice notes that would be the first known openly gay Republican elected official in Texas history.
Did a Republican member of the Texas State Board of Education just come out as gay? [dallas voice]