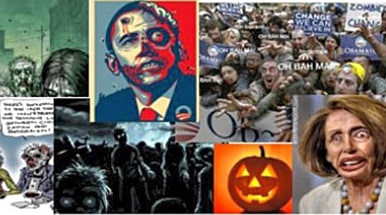 Virginia's Loudoun County Republicans sent around an image of Obama this week that has provoked anger and an investigation by the Secret Service, the AP reports:
The posterized image of a rotting, undead Obama with a bleeding, large-caliber hole an inch above his right eye prompted Democrats to cry foul and Virginia's Republican governor to denounce it as "shameful and offensive."
"This is a disgusting and violent portrayal of the president of the United States," said Democratic Party of Virginia spokesman Brian Coy.
Gov. Bob McDonnell, through spokesman J. Tucker Martin, called on the Loudoun GOP to "apologize for their actions, and to immediately ensure that such imagery is never used again."
Said Loudoun County Republican Committee Chair Mark Sell in a statement: "The Loudoun County Republican Committee yesterday sent an email to its members that represented a light-hearted attempt to inject satire humor into the Halloween holiday. Apparently, some individuals have interpreted an image of Barack Obama that appeared within the email as intending to portray the president as a victim of a violent crime. Nothing could be further from the truth, and we deeply and sincerely apologize to the president and anyone who viewed the image if that was the impression that was left. The LCRC deplores any effort to display, suggest or promote violence against the president or any other political figure."