I wanted to update those of you who donated to the funeral of Jacob Rogers last week with a few more specifics. For those of you who don't know, Jacob was a Tennessee teen tragically driven to suicide after years of anti-gay bullying.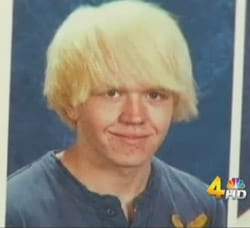 With the goal of $5,000, readers of Towleroad, The Stranger, and Joe.My.God raised almost $9,000 in less than three hours. After we saw that we had hit the $5K mark, we pulled our donation buttons off the sites but the cash had come in so quickly that we raised almost double the goal.
As I said in the original post, the extra funds will be split between GLSEN, Trevor Project, the ACLU, and the It Gets Better Project this week, once the accounting is finished.
Jacob's funeral was on Saturday. We have not heard any reports on it. The fund that the money went to is legally obligated to pay out $5K directly to the funeral home. Any extra funds not taken up by costs will go to the family.
Because of those who contributed, we were able to help Jacob's family afford a funeral. Thank you for your generosity. And thanks to Dan Savage's Seattle newspaper The Stranger, which kindly helped set up the PayPal, and facilitated getting money to the funeral home in Tennessee in time for Jacob's burial.