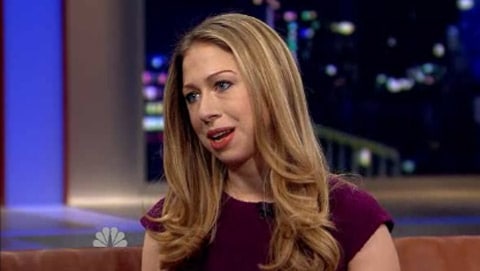 Chelsea Clinton made her debut on NBC Nightly News last night.
TVNewser was impressed by her delivery but the NYT's Alessandra Stanley seemed consumed by Clinton's motives:
Television gives Ms. Clinton more than a platform for her charitable causes. It's a fast track to all kinds of careers, including politics. The best, and perhaps, only way to trump inherited fame is to double-down on it. Television doesn't often lend its stars dignity, but it is the great equalizer: almost anyone on it long enough can become as well known as the parents who helped get them the job. To younger viewers at least, Tori Spelling has become perhaps even more famous than her legendary father, producer Aaron Spelling, merely by putting a camera on her private life for her reality series. The Kardashian daughters have done the same.
Watch, AFTER THE JUMP…
Visit msnbc.com for breaking news, world news, and news about the economy