Chris Barron will step down as chairman of gay conservative group GOProud following a tumultous week of events for the organization. The drama began after Barron and Jimmy LaSalvia outed Rick Perry's top pollster Tony Fabrizio in anger over Perry's instantly viral anti-gay ad. The outing angered conservative blogger and board member Andrew Breitbart so much that he resigned from the organization and the board put out a statement condemning the practice of "outing" individuals.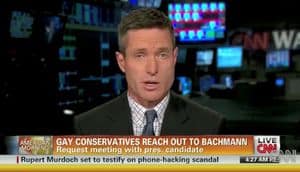 MetroWeekly reports:
Lisa De Pasquale, the former director of Conservative Political Action Conference (CPAC), will be stepping in as the interim chair of the board of directors, although she says in a release that the day-to-day operations of the organization will be unchanged. She already had been serving on GOProud's advisory council. According to the release, Barron will remain on the board. Executive director Jimmy LaSalvia tells Metro Weekly that he remains the executive director and will remain a board member…According to the release, the group plans to restructure, including by asking several of its advisory council members to join the board."
Barron "will continue as the organization's Chief Strategist and I will remain on the Board as Chairman Emeritus" according to a statement on the press release.