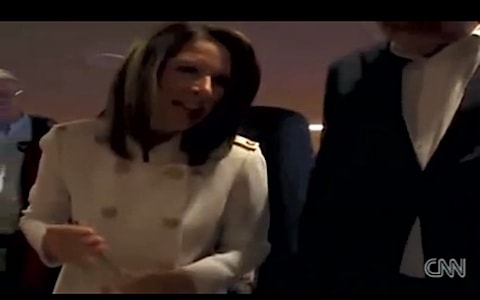 A voter in Clarion, Iowa yesterday asked Michele Bachmann to autograph her "gay-friendly Iowan" sign and then asked the candidate about her views on gay people, CNN reports:
"I wonder if you're aware that 10% of the population is gay. And if you have 28 children, then 2.8 of those kids are very likely gay."
The congresswoman, within definite earshot as she hovered over Schnell, at first seemed to avoid the question, trying to say "hello" to someone new. Schnell turned to her friend and said, "She's not listening to me." Bachmann must have heard that because she then turned back.
"Well, that's according to the Kinsey Report," the candidate replied.
Dr. Alfred Kinsey is best known for conducting interviews with thousands of individuals and publishing his findings in books on human sexual behavior during the 1940s and '50s. Bachmann's husband, who runs a clinic in their district in Minnesota that has long been accused of conducting "reparative therapy" by trying to help gay individuals become straight, then chimed in.
"Your facts are wrong," he said.
"That's not valid?" Schnell asked back.
"No it isn't," Michele Bachmann said. Her husband added, "No, it's not at all. It's been a myth for many years."
Watch VIDEO of the exchange, AFTER THE JUMP…