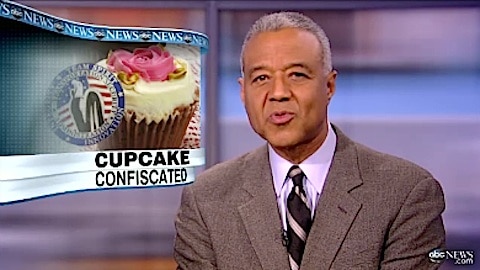 Some pre-holiday nonsense from the TSA. Vanilla Bourbon icing on a red velvet cupcake caused a security scare in Las Vegas:
Rebecca Hains told ABCNews.com today that a Transportation Security Administration agent at Las Vegas- McCarran International Airport confiscated her cupcake, saying the frosting sitting atop the red velvet cake was gel-like enough to violate regulations…
…The TSA agent didn't know what to do with the cupcake, so she called over her supervisor, Hains said.
"The TSA supervisor, Robert Epps, was using really bad logic – he said it counted as a gel-like substance because it was conforming to the shape of its container."
"We also had a small pile of hummus sandwiches with creamy fillings, which made it through, but the cupcake with its frosting was apparently a terrorist threat…I just don't know what world he was living in," said Hains, speaking of the TSA officer.
Watch ABC News' report, AFTER THE JUMP…