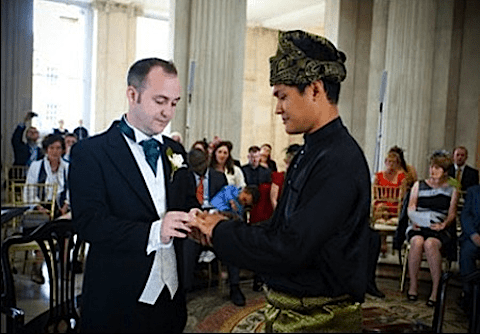 Ariff Alfian Rosli, a Malaysian national who has been studying in Ireland for eight years, is under fire from his home country after photos were published showing his wedding to his civil partner (identified only as Jonathan) at Dublin City Hall, the Irish Times reports:
The pictures were published on the front pages of some local newspapers and have been the source of criticism from numerous political groups in Malaysia, where same-sex sexual relationships are illegal and punishable by up to 20 years in prison.
The Malaysian police have been urged by Muslim groups to investigate the issue on the basis that Mr Rosli has failed to adhere to the country's Islamic laws. The controversy has prompted the Malaysian prime minister's office to issue a statement pledging to investigate the matter.
An official from Malaysia's ruling political party is reportedly due to arrive in Dublin later this week to convince Mr Rosli to return home.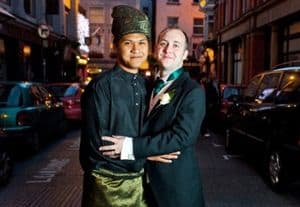 Said Rosli:
"I am not missing. The Irish authorities know I am legally resident here. The Malaysian embassy has also been aware for several years that I am residing here legally. I feel I have have been inadvertently thrust into the public eye. I just want to get by without upsetting anyone or causing any trouble. My overriding concern is for my family."
The Malaysian Insider reports:
Local criticism of the same-sex union has been swift and harsh, with mainly Muslim users attacking Ariff Alfian on Twitter for straying from Islam and dishonouring his family.
"Ariff Alfian Rosli is a disgrace! Rot in hell!" user @DTOTHEZAK wrote on the popular micro-blogging site.
Another user, @shkyla, wrote: "Looking at those wedding pictures of Ariff Alfian, makes me want to vomit. Blergh, disgusting."
Muslim groups have also been quick to condemn Ariff Alfian, with the Kepong Islamic Youth Organisation (PBIK) lodging a police report yesterday over his alleged failure to adhere to Malaysia's Islamic laws. Other critics have taken a different tack, preferring instead to "rehabilitate" what they saw as a Muslim who had strayed far from the teachings of Islam. This includes the Facebook group, "The Campaign to Bring Ariff Alfian Rosli Home to Malaysia to Save His Faith", which was set up on Saturday.