Welsh stunner Steve Jones is getting axed as host of X Factor, UK's Mirror tabloid is reporting: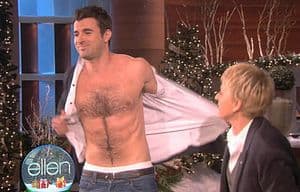 My source says: "Steve keeps saying that living in LA is a dream come true. He loves the weather and the women, and he loves working on X Factor – it's just a shame that the US public has not warmed to him. He got terrible reviews from critics when he started and things haven't got better. There have been mistakes and he just doesn't seem to have the knack for dealing with contestants. The executives at Fox have already decided not to renew his contract and so, short of a miracle happening, it is pretty much a done deal that he will not take part next season."
His worst moment came earlier this month, when Rachel Crow, 13, sank to the floor in tears live on air as Steve told her she'd been eliminated.
The host first crouched down, then stood around looking awkward after Simon Cowell and Rachel's mother rushed on stage to console the distraught teenager.
Well maybe this will free him up to show off more of the talents that he does have.
Like the one he displayed on Ellen, which bears repeating, AFTER THE JUMP…
UPDATE: A rep for Jones denies the report: "There have been absolutely no conversations about Steve Jones leaving The X Factor. No discussions have been had and no decisions will be made about any contracts until the New Year."