Back in November I posted about the Toronto Zoo's plans to force gay penguin couple Buddy and Pedro to breed with females, a plan that was met with much objection from the general public.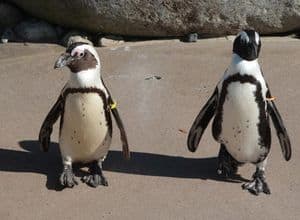 So how did it go?
Less than 72 hours after the union ended, Buddy successfully paired with female Farai on November 19, said Tom Mason, curator of birds and invertebrates at the Toronto Zoo, at a press conference.
They bonded "very tightly" Mr. Mason said.
However, life after Buddy might not be as easy for Pedro, who has been courting female Thandiwey for several weeks but has made no permanent moves.
"Pedro is very ready to go, per se, but his prospective mate… is a little standoffish," Mr. Mason said.