George Clooney has signed to a West Coast production of "8", Dustin Lance Black's play about the Proposition 8 trial, according to The Hollywood Reporter: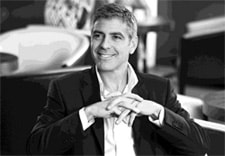 The production — directed by Rob Reiner and written by Dustin Lance Black — will run one night only at Los Angeles' Wilshire Ebell Theatre on March 3. Proceeds will benefit the American Foundation for Equal Rights in its national fight for marriage equality.
"It is astonishing that gay and lesbian Americans are still treated as second-class citizens," Clooney said. "I am confident that, very soon, the laws of this nation will reflect the basic truth that gay and lesbian people — like all human beings — are born equal in dignity and rights."
Opponents of Proposition 8 have called on the court to unseal the video of the federal trial for the public to see. A ruling is expected soon. In the meantime, the limited showing of 8 will have to suffice.
The play had its New York debut earlier this year. I was lucky enough to get to see it and recommend it for those of you in L.A..