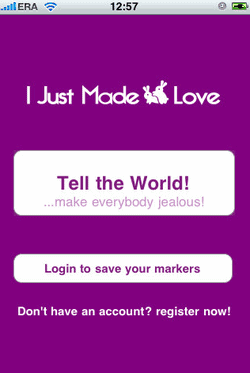 Did you just make love? Do you want to tell the world about it? There's an app for that!
"I Just Made Love" is catching on in Europe. At least, it's catching on in Poland. According to The Daily Mail:
The Android – and now iPhone – app lets you record where, when and even in what position you 'made love' – and then upload it to an online database – with your comments.


The Android app has already been downloaded 10,000 times.

The I Just Made Love site claims to have recorded 193,000 'acts of love' … Most of the posts via the site so far seem to be in Polish – with only isolated instances of lovemaking in other countries.
Along with the blunt fact of your having got lucky, the app lets you note where it happened, and allows you to provide a "very limited" amount of context — whether the encounter occured indoors, outdoors, in a car, or on a boat. It's the perfect app for the Don Juan cum compulsive oversharer. Assuming compulsive oversharers get laid.