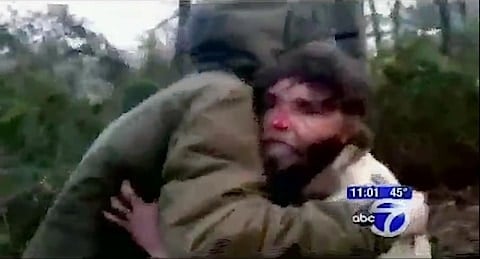 David Ivins, a 50-year-old homeless NJ man, is receiving an outpouring of support after two young thugs brutally beat him, recorded the attack, and put it on YouTube, the AP reports:
He told The Associated Press on Tuesday that he was preparing to move into a donated hotel room and that he wanted to take advantage of the help he's getting.
"I'm going to sober up," he said as he spoke to a reporter in the lobby of the Belmar Police station. He had just had a meal of spaghetti and salad, and his backpack and two shopping bags were bulging with other food he'd been given. Ivins doesn't remember what day the attack happened. Police, judging by a YouTube time stamp, say it was more than a week ago.
In the video, 20-year-old Taylor Giresi, of Lake Como was seen on camera saying, "About to go beat up this bum." Giresi punched and kicked Ivins in the facebefore telling him, "Merry Christmas." Giresi was jailed Tuesday on bail of $111,000. The 17-year-old cameraman who has not been identified, is to be charged with conspiracy to commit robbery and theft, and has been released to the custody of his parents.
Watch a report on the attack from ABC News, AFTER THE JUMP…