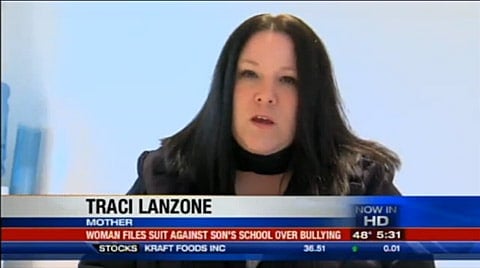 Traci Lanzone, the mother of a Marion, NY high school student is suing the school district, claiming that the school has failed to address the anti-gay bullying of her son, WHAM13 reports:
Traci Lanzone filed the lawsuit in federal court last week. She claims her son, who is not identified in court papers, has been relentlessly bullied over the last two school years. The harassment ramped up when he told classmates he is gay.
"Everything from being pushed, kicked, having food thrown at him, his clothes being hidden…it was just relentless," Lanzone said.
Lanzone said she complained to Marion officials at least 30 times about the bullying. Her son also complained, but Lanzone said the harassment continued. Court papers say classmates carved anti-gay slurs into desks and yelled obscenities.The boy remains a student in the high school.
Marion is approximately 20 miles east of Rochester, NY.
Watch, AFTER THE JUMP…