Patrick Wilson's "Buddy" argues with Charlize Theron's "Mavis" about the incident and points out that she called the victim a 'theater fag' all the time in high school. "It's an expression," she says with eye rolling exasperation, eager to get back to flirting. She's so entirely self-absorbed that the feelings of others are mysteries and she definitely can't process her own complicity in the bullying. She's a Mean Girl as anti-heroine of her own movie; all grown up but still achingly adolescent inside. 

Young Adult star and comic Patton Oswalt (a real threat for a Best Supporting Actor nomination), has issues of his own with the gay stereotypes in movies. Splitsider, in survey of roles he DIDN'T take or didn't get thus far, reminds us about a bit on his comedy album wherein he talks about turning down a gay best friend part.
I got offered to go audition for a romantic comedy and they wanted me to audition for the part of the 'gay best friend!' It's 2011—I may as well put on blackface and tap dance. That's how old that cliché is now. I read the script and every scene was like, I walk in and she's crying and I go, 'Microwave popcorn and red wine, stat!'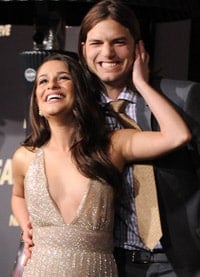 Speaking of theater boys, have you read this hilarious New York Times piece on Hugh Jackman's stage persona? "Mr. Jackman is, unapologetically and triumphantly, the bi-est guy in town: bicultural, bimorphic, binational, biprofessional and, for entertainment purposes, bisexual."

In honor of W.E.'s sorta release, Madonna's best moments on the big screen. 

With the release of New Year's Eve – she shares her scenes with Ashton Kutcher — I've been thinking about Lea Michele a lot. What will her career hold for her after Glee. How do you follow up a showstopper like "Rachel Berry"? There's very juicy gossip circulating about unhappiness on the set of Glee and ratings are down so the time is ripe for her next career move anyway. Are you still watching? Will you watch Lea Michele after Glee? She's so divisive. She's still supposedly in the running for "Eponine" in the long awaited film version of Les Miserables.
Oh Les Miz… even hearing the title, the songs start playing at full volume in my head.