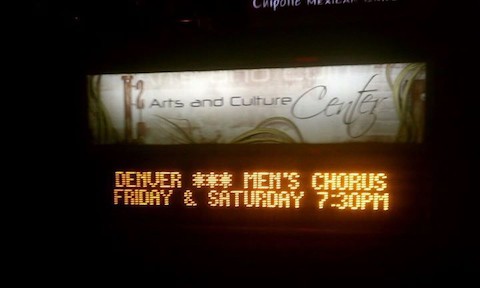 A tipster sent this in to us over the weekend.
The Denver Gay Men's Chorus had a concert at the L2 Arts and Culture Center in Denver over the weekend, but you wouldn't know by looking at the marquee.
The word "gay" in the choir's name, deemed too inappropriate to be broadcast in bright lights, was instead replaced with three asterisks.
UPDATE: Our commenter David writes: "I talked to a friend in the chorus and he told me this story: The person at L2 who programmed the sign left without realizing that the 'nanny' software blocked GAY as an inappropriate word. Once people at L2 realized what had happened they scrabbled to override the software and did fix it. Sounds like the L2 staff were as upset that this happened as the chorus members were."
UPDATE II: Rocky Mountain Arts Association, the parent organization of the Denver Gay Men's Chorus, wrote in with a statement regarding the story.
"The Denver Gay Men's Chorus worked with L2 Arts and Culture Center to rectify the situation this past weekend in a fast and efficient manner. We want to assure the community that the situation was caused by computer error and not a deliberate attempt by our friends at the center to disparage the chorus or its mission. We sincerely hope that this statement will put to rest any negative sentiment toward L2 Arts and Culture Center or the city of Denver, Colorado. We look forward to welcoming our fellow GALA Chorus members to our beautiful city in Summer 2012."