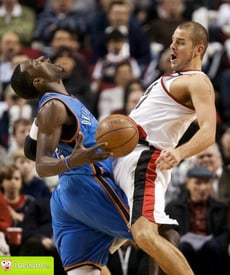 The sports arena's gay evolution continues.
A mere three weeks after Major League Baseball added "sexual orientation" to its collective bargaining agreement, the National Baseball Association has done the same.
"I am pleased to announce that we have concluded the collective bargaining process and have reached an agreement that addresses many significant issues that were challenges to our league," said Commissioner David Stern. 
"This collective bargaining agreement will help us move toward a better business model, a more competitive league and better alignment between compensation and performance."
GLAAD of course celebrated the news. Said Acting President Mike Thompson: "This decision shows that homophobia has no place on the court or in the game and we hope that local, college and high school teams follow this important example."