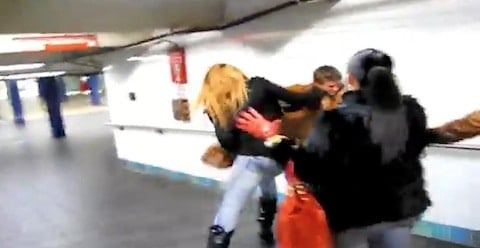 A video posted to YouTube shows a trans woman pursuing and then kicking and beating a man after he reportedly made a remark about her gender.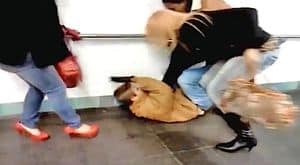 Writes the uploader of the video, titled 'TOSSED LIKE A RAG DOLL FOR TRYING IT!!!': "Morning after xmas on the nyc subway train, me and my girlfriends was walking to the train, dude shouted out 'thats a man' to my home girl and this is what happens when u disrespect a tranny in public".
Writes blogger TransGriot: "How many times have I warned you cispeople not to frack with transpeople?  It's not a good idea to get someone pissed off at you who not only has a little more strength than the average cis female, but is an estrogen based lifeform to boot. You also don't know how much bull feces that transperson may have gone through just trying to get through her day. Your attempt to make fun of them or disrespect them to prop up your own flagging self esteem may be the last straw that sets the transperson off and the next thing you know they're either reading you like a cheap novel, pulling out a can of whoop ass with your name on it or are doing both at the same time…"
Watch the video, AFTER THE JUMP…