Rick Santorum was challenged by a 23-year-old alum on how same-sex marriage would "be a hit to faith and family in America" at a campaign event at Dordt College, a small Christian college in Sioux City, ABC News reports: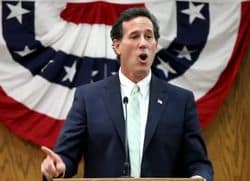 Santorum then said that if same sex marriage was legalized then "their sexual activity" would be seen as "equal" to heterosexual relationships and it would be taught in schools.
"Really- wow- um okay, well let's see if we can have a discussion. We can flesh out some, well, let's look at what's going to be taught in our schools because now we have same sex couples being the same and their sexual activity being seen as equal and being affirmed by society as heterosexual couples and their activity," Santorum said.
"So what is going to be taught to our people in health class in our schools? What is going to be taught to our children about who in our stories, even to little children — what are married couples? What families look like in America? So, you are going to have in our curriculum spread throughout our curriculum worldview that is fundamentally different than what is taught in schools today? Is that not a consequence of gay marriage?" he GOP hopeful asked.
Kornelis said he still did not agree, to which the candidate responded, "I think you're wrong — okay, in fact you have to know you're wrong, because if we say legally if this type of relationship is identical to other type relationships than of course more of it will be taught because this is what the law says."
Rick Santorum Has Tense Exchange on Gay Rights and Health Care in Iowa [abc news]