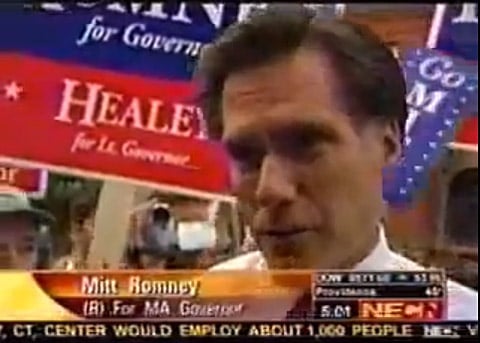 A new video has surfaced online from Mitt Romney's 2002 campaign for Massachusetts governor.
Says Romney in the clip: "I think the old standby definitions of who votes for which party have been blown away in this campaign. I think people recognize that I'm not a partisan Republican, that I'm someone who is moderate, and that my views are progressive."
Watch, AFTER THE JUMP…
UPDATE: Romney spokesperson Andrea Saul responds.
The very last thing the Democrats want to do is run against Mitt Romney. That is why they are focused on his campaign and not on the economy. The Democrats are continuing their campaign of deception in their strategy to 'kill Romney.' If anyone has a question of how Mitt Romney will govern as president, take a look at his record of creating jobs, cutting spending, and protecting the sanctity of life and traditional marriage. That was his record as Governor and that will be his record as president.