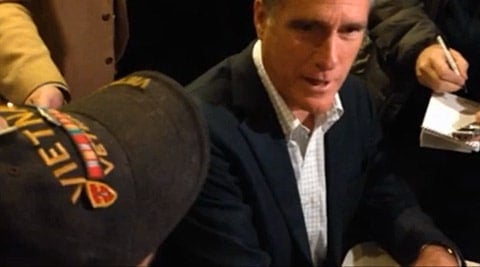 Mitt Romney was confronted by a gay Vietnam veteran at a campaign stop at the Chez Vachon restaurant in Manchester, New Hampshire this morning during a breakfast campaign stop. Romney sat down with two men, Bob Garon and Bob LeMire. Presumably, Romney didn't know that the two men were married. Garon asked Romney his views on same-sex marriage, efforts to repeal NH's marriage equality law, and military benefits.
Watch the entire exchange, AFTER THE JUMP…
"I believe marriage is between a man and a woman. That's my view," says Romney, the Boston Globe reports:
With that, it started to become clear that a routine campaign conversation could become hostile. Though Romney had no reason to know it, Garon – a 63-year-old from Epson, N.H. — was sitting at the table with his husband.
Garon challenged Romney, saying, "If two men get married, apparently a veteran's spouse would not be entitled to any burial benefits or medical benefits or anything that the serviceman has devoted his time and effort to his country, and you just don't support equality in terms of same-sex marriage?"
Romney reiterated his support for the Defense of Marriage Act, and added, "And we apparently disagree."
When Romney tells Garon that he needs to move on to FOX News, Garon responds, "I guess the question was too hot."
Garon adds: "New Hampshire is right. You have to look a man in the eye to get a good answer. And you know what Governor? Good luck….You're gonna need it."
Watch the entire exchange, AFTER THE JUMP…
Garon, who married his husband in June, told the Globe: "The guy ain't going to make it…He is not going to make it…You can't trust him. I just saw it in his eyes. I judge a man by his eyes."