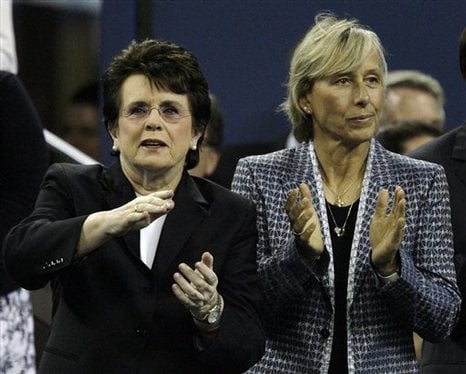 Last week I mentioned that tennis legend Margaret Court, now an evangelical pastor, spoke out against same-sex marriage in response to Australia's push for marriage equality.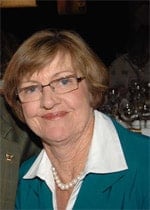 Said Court: "No amount of legislation or political point-scoring can ever take out of the human heart the knowledge that in the beginning God created them male and female and provided each with a unique sexual function to bring forth new life. To dismantle this sole definition of marriage and try to legitimise what God calls abominable sexual practices that include sodomy, reveals our ignorance as to the ills that come when society is forced to accept law that violates their very own God-given nature of what is right and what is wrong."
Court's comments did not sit well with fellow tennis legends Martina Navratilova and Billie Jean King, both out and proud lesbians. They spoke with the Tennis Channel.
Said Navratilova: "Seems to me a lot of people have evolved as has the Bible, [for example regarding] slavery. Unfortunately, Margaret Court has not. Her myopic view is truly frightening as well as damaging to the thousands of children already living in same gender families…I have tried to talk to Margaret, but to say she's completely close-minded on the issue is an understatement…Here is hoping Australia will be on the right side of history and human rights, and become yet another democracy granting equal rights to all her citizens."
Said King: "I respectfully disagree with Margaret's position on gay marriage…We have to commit to eliminating homophobia because everyone is entitled to the same rights, opportunities and protection…The more we talk openly about issues like gay marriage, the more we learn about each other. It is a blessing the people of Australia can live freely and express their own opinions because we need open dialogue to help us move forward.