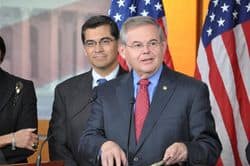 This morning, U.S. Senator Robert Menendez (D., NJ) announced his support for the Respect For Marriage Act, which will, if it becomes law, repeal DOMA forever.
Sen. Menendez actually voted for DOMA back in 1996. But times change, people change, and the wisdom of accumulated years (or the weight of accumulating voter sentiment) has affected a change in Sen. Menendez's heart. In an excellent op-ed in the Newark Star-Ledger this morning, Sen. Menendez wrote:
Since my vote in favor of the Defense of Marriage Act 15 years ago, like tens of millions of Americans, I have reflected deeply and frequently about this issue … for me, this comes down to an issue of fundamental fairness. For me, this comes down to the principles I learned as the child of immigrants and that I cherish as an American: that we believe in equality for all people under the law.

… Across our country, the attitudes of millions of Americans have changed on this issue and several states have acted to guarantee the freedom to marry to same-sex couples whose love for each other and life commitment to one another is no different from other couples.

These gay men and gay women defend our streets and our citizens as firefighters and police officers; they are small-business people who create jobs; they are teachers who prepare our children to compete in the future. And they are soldiers, Marines and sailors who have put their lives on the line for our country, fighting to protect our freedoms and to combat terrorists who threaten to attack us again.

For many years, these millions of committed couples have argued that the freedom to marry — their freedom to marry — is a core civil rights issue. I now believe they are right.
Sen. Menendez reminds readers that marriage equality shouldn't be confused with forcing individual churches to perform marriages they deem invalid.
Sen. Menendez is the 33rd senator to support the bill. To date, no Republicans senators have signed on — though in the House, Rep. Ileana Ros-Lehtinen (R., FL) declared her support for the bill in September.