The Senate confirmation of Mari Carmen Aponte, Obama's pick for Ambassador to El Salvador, who has been serving since Obama made her a recess appointee in September 2010, is being blocked by Republicans who are partly using a June editorial she wrote supporting Gay Pride as reasons for objecting.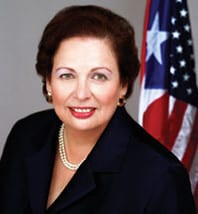 The AP reports:
Conservative anger toward Aponte is based, in part, on an op-ed she wrote June 28 in La Prensa Grafica, a daily newspaper in El Salvador, The essay was in response to a State Department cable to ambassadors worldwide urging them to recognize gay pride month.
In a Spanish-language piece titled, "For the Elimination of Prejudices Wherever They Exist," Aponte wrote: "No one should be subjected to aggression because of who he is or who he loves. Homophobia and brutal hostility are often based on lack of understanding about what it truly means to be gay or transgender. To avoid negative perceptions, we must work together with education and support for those facing those who promote hatred."
In the op-ed, Aponte noted that the United States and El Salvador were among more than 80 nations that had signed a U.N. declaration for the elimination of violence against gays and lesbians. She also pointed out that El Salvador President Mauricio Funes had signed a decree in May 2010 prohibiting discrimination by the government based on sexual orientation.
The Senate Foreign Relations Committee approved her nomination on a 10-9 party-line vote last week, but it's unclear if Aponte will be confirmed by the full Senate before the session ends.