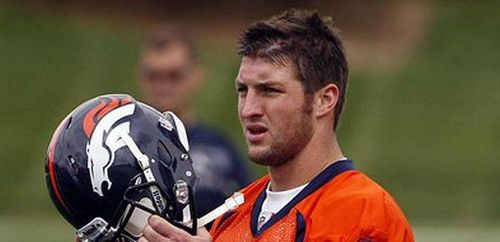 Without mentioning the campaign by name, the Denver Broncos have responded to a Change.org petition signed by more than 8,000 people asking them to create an 'It Gets Better' video.
…in a statement to The Huffington Post, Broncos spokesman Patrick Smyth gave no indication that the team would be participating anytime soon.
"The Denver Broncos are committed to tolerance, acceptance and respect for all in the community," said Smyth. "The National Football League is currently working with USA Network on its 'Characters Unite' campaign combating prejudice and intolerance, and our organization is in full support of that movement to help raise awareness for this very important cause."
The rising popularity of Christian quarterback Tim Tebow, while not given as a reason for the petition campaign, was surely part of its inspiration.
Last year, Tebow produced a Super Bowl ad for anti-gay, anti-choice Evangelical group Focus on the Family, and given the group's anti-LGBT slant, folks have been curious about Tebow's personal views on gay issues, bullying being just one of them.
In June, Tebow's publicist specifically demanded that the topic of same-sex marriage be off-limits in an interview with the Washington Post:
When asked questions he clearly has not been asked before, he ponders and tries to respond as openly and honestly as he can. Only once, when asked about same-sex marriage, did his publicist, on the other end of the phone, protectively jump in to object that that was off message.
I wrote back then:
The article positions Tebow as a good Christian role model. But as one commenter on the WaPo love letter notes, "Until Tim Tebow distances himself from the hatred aimed at millions of Americans (including quite a few gay teens that end up killing themselves), he has no credibility as a role model."