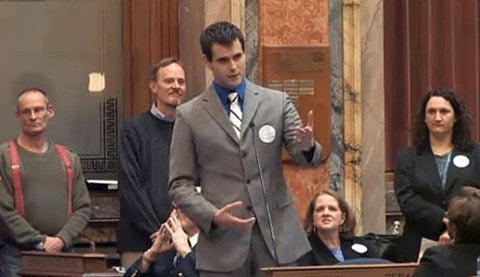 Zach Wahls' inspiring speech to the Iowa legislature about his gay moms is YouTube's top political video of the year.
Watch it again, AFTER THE JUMP…
Writes YouTube: "Surpassing the President and various presidential hopefuls in views, the #1 video on our list comes from a young man in Iowa speaking candidly to his government. Zach Wahls' 3 minute speech defending gay marriage has been viewed more than 18 million times."
The other top clips:
1. Zach Wahls speaks about family
2. President Obama at the 2011 White House Correspondents' Dinner
3. Strong [Rick Perry ad]
4. President Obama on death of Osama bin Laden
5. Brother, can you spare a trillion? Government gone wild!
6. Seth Meyers remarks at the 2011 White House Correspondents' Dinner
7. Rick Perry – Proven Leadership
8. Jon Stewart Goes Head-to-Head Bill O'Reilly
9. Now is the time for action! [Herman Cain ad]
10. President Barack Obama's First Ad of 2012 [NRSC Ad]