As you may know, Indiana recently became the first state to issue an LGBT license plate, for the Indiana Youth Group, which operates a youth center and works with Gay Straight alliances in schools.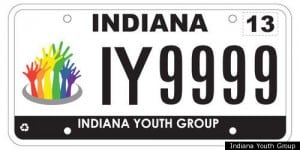 The American Family Association isn't happy about it.
Said Executive Director Micah Clark: "You have to question what the DMV was thinking when they approved a license plate for a group which recruits teens into the homosexual lifestyle. Since health risks do not seem to matter, what is to prevent a cigar club from now getting a license plate from the DMV? State agencies should be neutral in the politically charged culture war especially the promotion of homosexuality among minors. It is very disappointing that Indiana is the first state in the nation to have a license plate celebrating youth involved in homosexual behaviors."