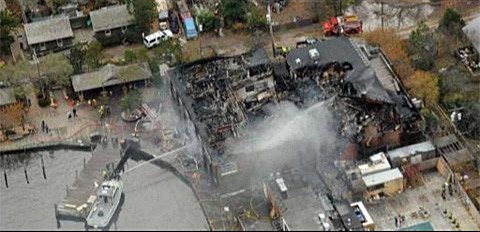 An architectural firm has been chosen to redesign the Fire Island Pines Pavilion, which was gutted by fire in November, the NYT reports:
The selection of Diller Scofidio + Renfro, whose recent high-profile commissions include the the High Line and the redesign of Lincoln Center, was announced on Thursday by FIP Ventures — a partnership of Blesso Properties, Seth Weissman and Andrew Kirtzman — which owns 80 percent of the Fire Island Pines commercial district.
"The fire handed us an unexpected opportunity to create something far better than what was destroyed," Mr. Weissman said in a news release. "We're intent upon building something that will reflect the Pines' reputation as a mecca of style."…
…Charles Renfro, a partner in Diller Scofidio + Renfro who has spent several summers on Fire Island, said the designers are thinking in "broad strokes" about "heightening" the entire commercial district into something more theatrical.
"We're rethinking it as the Theater of the Pines, a proper name," he said. "It's about the comings and goings, the glances, the meetings: all of those things that are particular to the Pines."
In other words, drama.
Previously…
Blaze Destroys Pavilion, Other Structures at Fire Island Pines [tr]