Gays couples who wed in Canada are not legally married there if their home state or government does not recognize same-sex marriage, the government is arguing in a court case: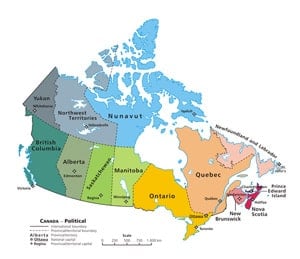 The Globe and Mail reported Thursday that the government is contending in a Toronto court case that non-Canadians gays and lesbians who have been married here since 2004 are only considered married under this country's laws if gay marriage is also recognized in their home country or state.
The paper is basing its report on court documents filed in a Toronto test case. It was launched by a lesbian couple seeking a divorce. They were wed in Toronto in 2005, and cannot be identified under a court order.
A Department of Justice lawyer reportedly argued the marriage was not legal in Canada because the couple could not have been legally married in Florida or England, where the two live.
The Globe & Mail adds: "The government's hard line has cast sudden doubt on the rights and legal status of couples who wed in Canada after a series of court decisions opened the floodgates to same-sex marriage. The mechanics of determining issues such as tax status, employment benefits and immigration have been thrown into legal limbo."
More than 5,000 couples from outside of Canada have been married there since same-sex marriage was legalized in 2004.