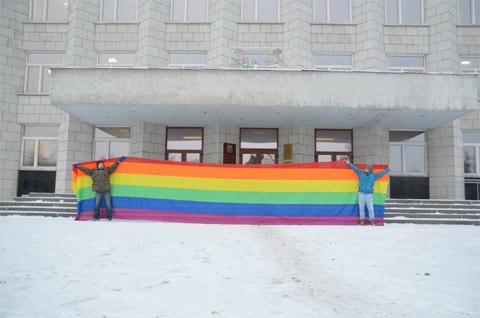 Russian gay activist Nikolai Alexeev and Alexey Kiselev were arrested this week in the far north city of Arkhangelsk, Russia after a series of actions in sub-zero temperatures in defiance of a "gay propaganda" law that was passed there last year similar to the ones under consideration in St. Petersburg, Moscow, and nationwide, according to Alexeev's Facebook page.
On Tuesday, they unfurled a 20 meters rainbow flag in front of the entrance to Arkhangelsk Parliament.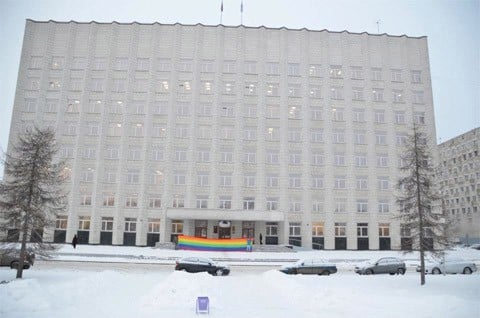 On Wednesday, Alexeev wrotes on his Facebook page: "Me, Alexey Kiselev and Kirill Nepomnyaschiy arrested at solitary pickets in Arkhangelsk. All of us are now at local police station, protocols are being written….officially accused of homosexual propaganda in Arkhangelsk. It is the first time Arkhangelsk gay propaganda laws passed last autumn are used in practice! All of us face a fine of up to 2000 rub each (50 euros). Court hearing is scheduled for 20 January. But we are still at police.
The activists were later freed.
Here's Kiselev before his arrest: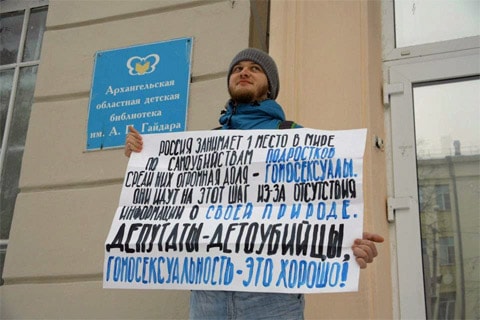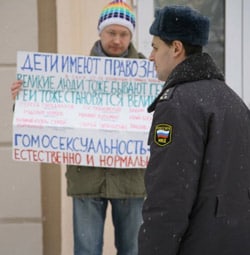 All the pickets were staged in Lenin Square, where the main bodies of local and regional authorities are located.
Gay activist Alex Kiselev went to the building of the Assembly of Deputies of the Arkhangelsk region, displaying a poster that read: "Teenagers have homosexuals as much as adults. Who will protect them?"
During the picket, passers-by approached him, asking questions.  Some of them approved of the action and even shook hands with him.
Transgender activist Anno Komarov was standing near an Arkhangelsk Region government building with the placard "Trans men can be gay. It is illiterate to fine for the information".
During his picket an employee of th administration approached him, took photographs, and said that the conduct of the pickets was lawful.
Gay activist Nikolai Alekseev, founder of Moscow Pride, picketed Arkhangelsk City.  He stood with a placard "Children have a right to know great people, too, are gay.  Homosexuality – it's natural and normal."
He cited Tchaikovsky, Sergei Paradjanov, Rudolf Nureyev and others.
Each of the activists approached the police.  Texts of their posters, as well as passport data, were recorded.  At the same time the officer called his superiors and asked whether a law prohibiting picketing "propaganda" of homosexuality among minors in the Arkhangelsk region, which came into force today.
UK Gay News reports that no arrests were made, which is contrary to activist Alexeev's Facebook page.
There's more information as well at LGBT Asylum News.