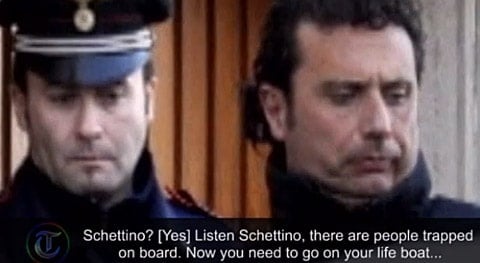 A radio exchange between the Coast Guard and Francesco Schettino, the Captain of the Costa Concordia cruise ship which ran aground on Friday night off the Tuscany coast, reveals that the Coast Guard ordered Schettino, who had abandoned the ship, to reboard and assist those trying to get off the wreck.
Says the officer in the recording: "Listen, there are people who are coming down the ladder on the bow. Go back in the opposite direction, get back on the ship, and tell me how many people there are and what they have on board. Clear? Tell me if there are children, women and what kind of help they need. And you tell me the number of each of these categories. Is that clear? Look, Schettino, perhaps you have saved yourself from the sea but I will make you look very bad. I will make you pay for this. Dammit!"
Schettino is under house arrest. Five more bodies were found today, bringing the death toll to 11. Dozens remain missing.
Another video has been released shot by a Coast Guard helicopter crew using night vision which shows people scattered over the hull of the partly-submerged ocean liner struggling to get off.
Watch both clips, AFTER THE JUMP…
Previously…
Gay Couple Describes Frightening Ordeal Aboard Sinking Costa Concordia Cruise Ship [tr]