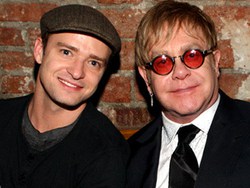 What would an Elton John biopic look like? According to the singer, it will be a "jukebox musical in earnest."
"It's going to be a surreal look at my life, and not just a factual look at my life, more in the manner of a Moulin Rouge!" said the singer, who commissioned Billy Elliot writer Lee Hall to pen the script. "I just don't want it to be a normal biopic because my life hasn't been like that."
So, what will the fictionalized John look like? Maybe Justin Timberlake, for John hopes to see the singer-cum-actor play on the big screen.
"I've got a wish list of people," he told the Los Angeles Times. "No. 1 on my wish list is Justin Timberlake, because he played me before in a David LaChapelle video of 'Rocket Man' and was superb."
Rather than leading into his life now, though, John says the biopic will only go up until 1990, the year he went into rehab, and then presumably will feature various flashbacks of his rise and subsequent fall. "It only goes up to when I go into rehab in 1990. It starts with me going into rehab and ends when I come out."
Meanwhile, John and husband David Farnish, who is co-producing, have a director lined up for the project, but are keeping the details quiet for the moment.