Elton John's husband David Furnish had more to say to the NY Post about Madonna's Golden Globe win: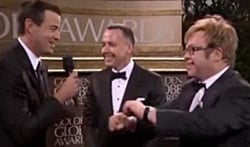 "I think it was a fluke . . . When this happens you have to question the integrity of the awards. Did Madonna get the Golden Globe because she attended the awards and agreed be a presenter? Can you sing Madonna's song? Can you hum it? It's a song nobody has heard, from a film few have seen. The award should have gone to Mary J. Blige or Elton. I like Madonna's music, but not her movies. She should stick to what she is good at."
(via boy culture)
On Sunday, Furnish took to his Facebook to rip Madonna following the win after Elton's embarrassing red carpet statement that "Madonna hasn't got a f**king chance."
What do these guys think about Madonna's win? Find out, AFTER THE JUMP…