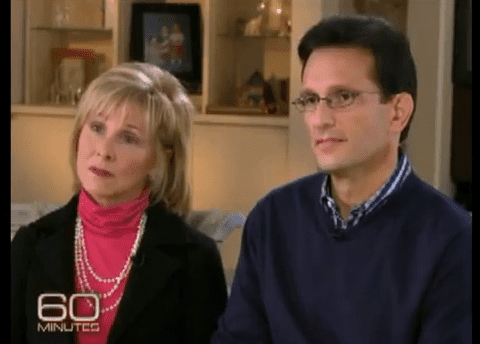 Like so many of his Republican counterparts, Eric Cantor has built his political platform in part on banning gay marriage.
The House Majority leader has been a leader in his party's fight to maintain the Defense of Marriage Act – a position that led Cantor to be heckled last October.
It's a surprise, then, to hear that his wife, Diana Fine Cantor, disagrees with Cantor's right wing stance on the issue. More than that, though, she willingly said so in a 60 Minutes interview this weekend, telling Lesley Stahl, "I do disagree [on gay marriage]. There's really that respect. If I expect him to respect my views that could be different, I certainly need to respect his.
While some political spouses keep their opinions to themselves — Cindy McCain finally came out for marriage equality over a year after husband John failed to win the White House — it's refreshing to hear Mrs. Cantor break with their partner on national television.
Watch the video AFTER THE JUMP…