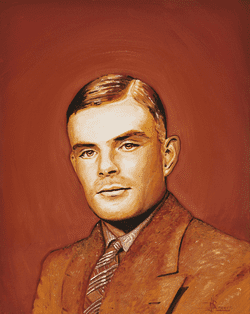 Alan Turing was once a hero in England. He helped the government crack German Codes during World War II and developed the Turing Machine, laying the framework for today's modern computers and was generally regarded as one of the nation's brightest stars.
Then, in 1952, Turing was outed, leading to a very public trial, conviction and chemically castrated for "gross indecency." He killed himself two years later.
Now, 60 years on, the British government is honoring Turing by including him in a series of twelve new "Britons of Distinction" stamps set to be released next month.
George Broadhead, secretary of the Humanist group the Pink Triangle Trust, celebrated Turing's inclusion in a press release. "This is richly deserved," he wrote. "It is well known that Turing was gay, but perhaps not so well known that he was a staunch atheist. There are many other famous gay atheists past and present — Christopher Marlowe, Maynard Keynes, Stephen Fry and and Michael Cashman among them — but Turing is probably the most notable since his breaking of the Enigma Code went such a long way in saving the UK from defeat in the last war."
Though Turing's picture is not featured on the new stamp – one of his eponymous machines is, instead – the news is just the latest step in a decades-long effort to redeem Turing's image. Perhaps the biggest development came in 2009, when then-Prime Minister Gordon Brown issued an official apology for Turing's treatment.
"While Mr Turing was dealt with under the law of the time and we can't put the clock back, his treatment was of course utterly unfair and I am pleased to have the chance to say how deeply sorry I and we all are for what happened to him," Brown said at the time. "Alan and the many thousands of other gay men who were convicted, as he was convicted, under homophobic laws, were treated terribly.
A new petition is now asking that the government to offer an official posthumous pardon for Turing. One of Turing's supporters, programmer John Graham-Cumming, actually opposes this petition, because it still assumes other gay men convicted under since-scrapped laws were guilty of something wrong.
"You either pardon all the gay men convicted (including, most importantly, those that are still living with criminal convictions) or you do nothing," he contended last month.