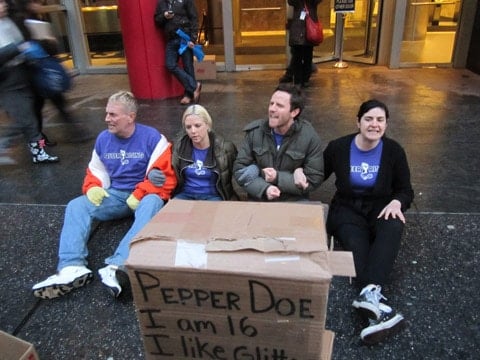 Four activists from the group Queer Rising — Natasha Dillon, Jake Goodman, Melissa Kleckner and Ted McGuire — were peacefully arrested yesterday afternoon following a protest by the group in front of New York Governor Andrew Cuomo's Manhattan office. At the demonstration, group members stood beside cardboard boxes that featured the names, ages and hobbies of anonymous LGBTQ youth and chanted for action from Cuomo.
Writes the group in a release to Towleroad:
In October 2011, approximately 80 LGBT organizations and community leaders endorsed the Campaign for Youth Shelter and sent Governor Cuomo a letter calling for "an additional $3-million per year in funding for the creation of 100 youth shelter beds per year."  Cuomo never publicly acknowledged the letter.
Hours after New York State Governor Cuomo released his 2012 budget proposal — which neglected to add a single penny of additional funding to provide adequate shelter for runaway and homeless youth — outraged members of the LGBT community gathered to protest outside his Manhattan office.  Activist group, Queer Rising, organized the demonstration.  Approximately two-dozen activists participated in the protest resulting in four arrests.
Every night in New York City, approximately 3,800 youth are without stable shelter, but the state and city only provide funding for fewer than 200 beds for these youth.  Up to 40% of the homeless youth identify as being LGBT. Last year, Governor Cuomo slashed this budget by 50%.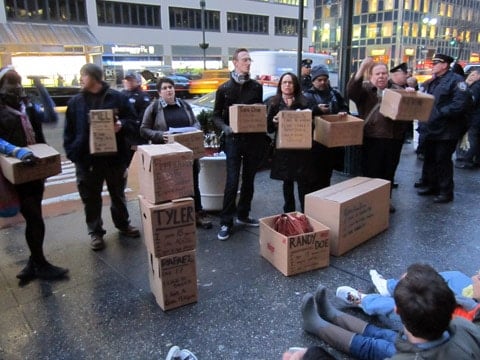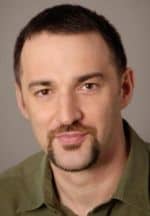 In related news, Carl Siciliano, Executive Director of the Ali Forney Center, the largest LGBT homeless shelter and resource center in New York, released the following statement regarding Cuomo's budget:
"Governor Cuomo's budget proposal is bad news for the 1600 homeless LGBT youth stranded on the streets of New York each night without access to a shelter bed. These youth, who suffer horribly and whose lives are in danger, deserve the attention and concern of their governor no less than the other members of our community.  With marriage equality expected to bring in over 100 million dollars in additional economic activity and tax revenue for the state, the LGBT community has a moral obligation to demand that our tax dollars protect the most vulnerable and desperate members of our community."
The Ali Forney Center was not involved in Queer Rising's action at the governor's office.