NJ Governor Chris Christie won't say what he'll do with a marriage equality bill: "When forced to make a decision, if forced to make a decision on it, I'll make a decision."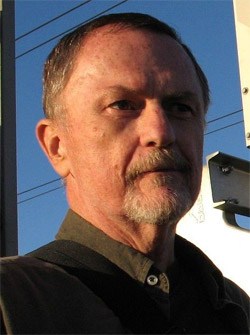 San Diego-based blogger and activist Mike Tidmus dies: "My name is Lindsay Tidmus, Mike's brother. It is with a heavy heart that I inform his Facebook friends of Mike's passing. He left us this morning after a battle with cancer." (photo rex wockner)

VIDEO: Brad Pitt stuck in a stoner laugh hole.

Sacked footballer Lee Steele apologizes for homophobic tweet about Gareth Thomas: "[The remarks] were made tongue in cheek at the time and Lee would like to apologise for this and any offence that this has caused and would also like to stress that he is not homophobic in any way."

Huffington Post Twitter account hacked briefly on Sunday: "In a rapid-fire series of tweets containing grandiloquent soliloquies like 'hello gay boys' and 'lol wes is a gay boy,' a hacker who claimed the nom de hack 'cloverfdch' locked the feed down tight, amusing and puzzling HuffPo's 1.5 million or so followers for several minutes until he was locked out again and HuffPo resumed tweeting links to its posts as if nothing had happened."

Back door: Lindsay Lohan crashes pre-Golden Globes party at the Chateau Marmont.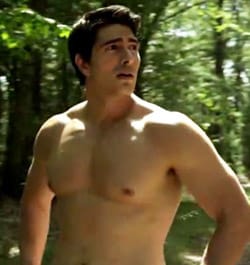 It's a bird, it's a plane, it's a shirtless Brandon Routh in the Broken Arrows trailer.

Gay priest may sue Church of England for discrimination: "It is thought John's case could hinge on a damning memorandum written by a former dean of Southwark Cathedral, which lays bare the divisions over sexuality at the very top of the church. In the leaked memo, the late Very Rev Colin Slee described how both the archbishop of Canterbury, Rowan Williams, and the archbishop of York, John Sentamu 'behaved very badly' at a meeting to choose the bishop of Southwark in 2010, and 'were intent on wrecking both Jeffrey John and [another candidate] Nick Holtam equally'."

MSNBC's Lawrence O'Donnell apparently forgot about the segment he did last November ripping apart hate group leader Tony Perkins and the Family Research Council. Media Matters: "On Wednesday, the MSNBC host invited Perkins for a more than ten-minute segment to discuss the GOP presidential primary and conservatives' reservations about supporting Mitt Romney, treating the FRC leader like any other legitimate political commentator"

Male model fix: Joan Mirangels.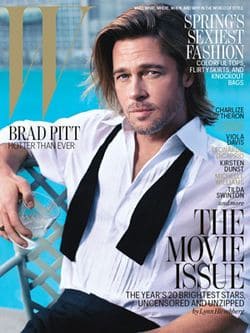 Brad Pitt and his golden mane on the cover of W.

This iPhone texting/camera concept seems like a pretty good idea.

British Columbia man comes forward with new information about gay bashing that left him a quadraplegic: "Copeman says he was attacked because of his sexual orientation. 'I was just testing the water at the time and being flirtatious with a group of guys,' he said. 'But I misread them.'"

Mitt Romney crows about endorsement from Kris Kobach: "Kobach is the Kansas Secretary of State and a far-right conservative who was the architect of SB 1070, Arizona's controversial anti-immigration law. Additionally, Kobach's church, the Christ Church, Anglican of Overland Park, has questionable ties to the dangerous anti-gay movement in Africa."

Shirley Maclaine on Elizabeth Taylor: "What I loved most about Elizabeth was her bawdy humor. She was down to earth. And her capacity for friendship was extraordinary. It was a comfort that I could call her to talk about whatever. And I could always go over and get a hell of a meal. Oh, to watch her eat! This woman loved soul food. And she'd top off any meal with a sundae. She'd pile stuff on a sundae that I didn't even know existed!"