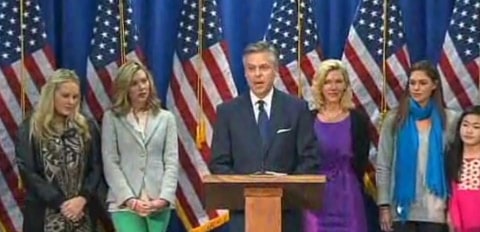 As I mentioned earlier, Jon Huntsman held a press conference earlier today announcing that he is dropping out of the GOP race for President. Huntsman endorsed Mitt Romney and had sharp words about the tone the campaign has taken.
Said Huntsman: "This race has degenerated into an onslaught of negative and personal attacks not worthy of the American people and not worthy of this critical time in our nation's history…"
Huntsman also accused Obama of engaging in "class warfare".
Watch his press conference, AFTER THE JUMP…
Visit msnbc.com for breaking news, world news, and news about the economy