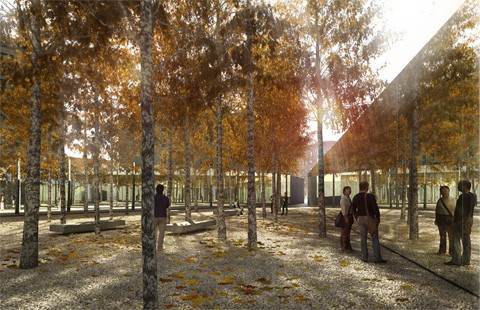 Organizers for the AIDS Memorial Park to be built in NYC's West Village opposite the now-shuttered St. Vincent's Hospital on 7th Avenue at Greenwich have chosen "Infinite Forest" by studio a+i: Mateo Paiva, Lily Lim, John Thurtle, Insook Kim, Esteban Erlich, as the winner in a design competition.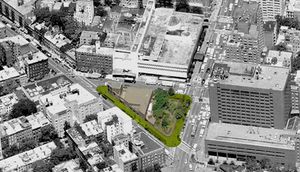 The competition was launched in November. Joining Michael Arad, the designer of the poignant and provocative 9/11 memorial in the footprint of the former World Trade Center, on the design jury were, among others, the architects Richard Meier and Elizabeth Diller; the landscape architect Ken Smith; the High Line's co-founder and executive director, Robert Hammond; the choreographer Bill T. Jones; and the novelist and journalist Kurt Andersen.
The description of the winning entry:
THE PARK INSIDE
An infinite forest, generated by having 3 facing mirror walls along each side of the triangular block, defines the park and the memorial. There are no separate statues, sculptures or plaques. The memorial lives within the infinite reflection of the white birch trees. We hope this park will be all things to all people: the children playing in the bounds of the mirrored forest, the weary commuter seeking a respite in the midst of the city and those visitors coming in memory of their loss.
THE IN-BETWEEN CENTER
The walls isolating the park from the city act as light wells and access to the Learning Center below. By bringing sunlight into the basement via skylights, the raw utilitarian space can be transformed into a welcoming and open area for exhibition, learning and performance. The walls also taper in width, housing stairs and ramps. The main entrance is located along Seventh Avenue, continuing the now lost storefront and bringing pedestrian activity to the street through the inclusion of a bookstore and café.
THE OUTSIDE
Along the sidewalks, three walls clad in slate create a forum for the voice of many. Through an ephemeral nod to the chain link fence at Greenwich and 11th Street, visitors are able to give life to the stone walls through messages and images written in chalk, creating an ever-changing mural which is refreshed with every rain.
Much more about the winning entry HERE. The runners-up HERE. And honorable mentions HERE.