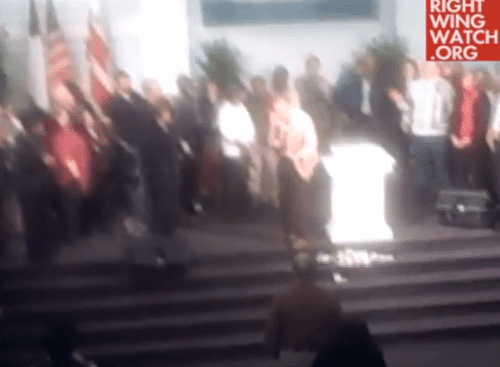 At a "Gathering of The Eagles" this week in Maryland, Jeff Wright of the National Prayer Embassy cleared up why, exactly, God chose to inspire Michele Bachmann's doomed run for the presidency: Apparently, the creator of the universe wished to draw attention to the "ex-gay" ministry of Michele's husband, Marcus.
Laughable as that is, there's something almost sweet about Mr. Wright's statement, which is viewable AFTER THE JUMP. Even ten years ago, a guy like Wright would be frothing at the mouth over the homosexual agenda, insisting on the moral depravity and conscious evil of his opponents in the culture war. But history's rolled on, and now the worst he can say about us and our allies is that we're nice people, just a little misguided:
I believe that people, like Jesus said, those that are pushing the homosexual agenda think they are doing the work of God, and I believe that the people who are promoting the homosexual agenda believe they are doing what God wants them to do, to be nice to homosexuals and to help them in their pain. It's the best they know. They have no revelation that God can change people by His power.
Click through to see a bigger chunk of Wright's address.