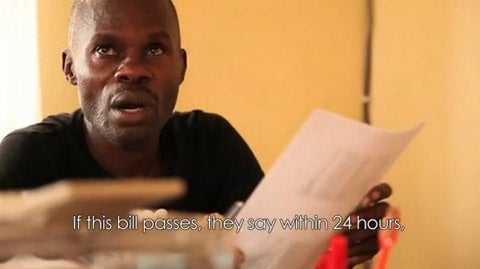 More than 100 Ugandan LGBT activists and family members gathered in Kampala today to mark the one year anniversary of the murder of the brave activist David Kato:
Gay rights activists speaking at the event called Kato, 46 at the time of his death, "the godfather" of the Ugandan gay movement and said that his passing had left a large void in the life of the country's gay community. "He always looked out for all of us even at times when we thought it was too difficult," Frank Mugisha, director of SMUG, said at the function in the garden of a hotel in central Kampala.
Katherine Fairfax Wright and Malika Zouhali-Worrall, the filmmakers behind Call Me Kuchu, a documentary on Kato and the Ugandan LGBT movement premiering February 11 at the Berlin Film Festival, have posted a touching piece on Kato and a clip from their documentary, on the NYT website:
During our first days in Kampala, a member of Parliament told us, "there is no longer a debate in Uganda as to whether homosexuality is right or not – it is not." From what we knew of the pending Anti-Homosexuality Bill – which proposed death for H.I.V.-positive gay men and prison for anyone who failed to turn in a known homosexual – we were tempted to believe him.
But David showed us a different reality. Initially, he played something of a fixer, our main liaison with the L.G.B.T., or "kuchu" community. We soon realized, however, that the man known as the "grandfather of the kuchus" was one of the most outspoken and inspired activists in East Africa. The more time we spent documenting his work, the more evident it became that, contrary to the M.P.'s claim, David and his fellow activists were, in fact, generating real debate in Uganda. Kampala's kuchus had begun to dismantle the country's discriminatory status quo, and were working tirelessly to change their fate and that of others across Africa."
I posted about Kuchu last April while the filmmakers were still looking for funding on Kickstarter. I'm glad to see they found it, and turned in what looks like an incredible, important piece of film.
Watch the trailer for Call Me Kuchu, AFTER THE JUMP…
Call Me Kuchu – Trailer from Call Me Kuchu on Vimeo.