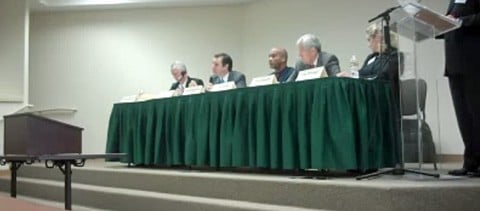 Former Dallas Mayor turned GOP Senate hopeful Tom Leppert was attacked by his Tea Party rival Ted Cruz in a debate this week for marching in a 2007 Gay Pride parade when he was mayor. Leppert had reportedly just told those listening that "he used the office of mayor to stand against the gay rights agenda," the Dallas Voice reports.
In Leppert's rebuttal to Cruz, he compared himself to Jesus:
"On the gay parades, it's real simple," Leppert responded. "There was not a single group in this city that I didn't engage. They all knew, a lot of them knew that I didn't agree with them, but there's not a group that I didn't engage. Jesus engaged every single group when he was here on earth and I did, too. And what wasn't told is all the different times that I talked about my faith and went out there and every single person in this city understood exactly where I stood."
Watch, AFTER THE JUMP…
After defeating openly gay candidate Ed Oakley in a runoff for mayor in 2007. Leppert hired an openly gay chief of staff, Chris Heinbaugh, and repeatedly expressed support for the LGBT community. In addition to gay Pride, Leppert appeared at Dallas' Black Tie dinner, the largest annual fundraiser for the city's LGBT community. He also refused to answer a question about whether he supported same-sex marriage.
But when Leppert decided to run for Senate about midway through his four-year term, he abruptly joined the virulently anti-gay First Baptist Church of Dallas. And, almost immediately after stepping down as mayor to launch his Senate campaign last year, he sent out an anti-gay tweet and came out on his website against both same-sex marriage and civil unions.