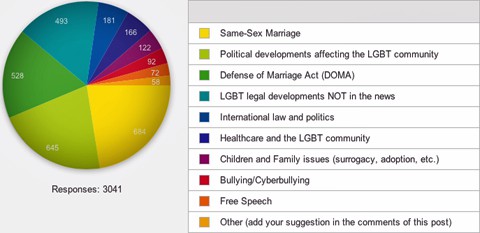 Rick Perry may not have learned anything from his abysmal showing in Iowa, but I have learned a lot from the recent survey that asked you to tell me what LGBT law topics most strike your interest. I will tailor my column to your preferences, but before we get to the actual results, a few comments and broad lessons:
1. Thank you to all readers, respondents, and commenters, and a special thank you to all those commenters who took the time to say how much they enjoy the law column. I am in your debt and humbled by your praise. I'm glad the column has been a super welcome addition to the Towleroad community.
2. Sorry for leaving employment discrimination off the list. That was a simple oversight on my part and I take full responsibility. Thanks to all those readers who registered their interest in ENDA and ENDA-related issues in the comments. ENDA will definitely factor into our 2012 discussions.
3. The survey lacked scientific rigor, but is still informative. While each survey got more than 51,000 views, approximately 3,000 readers responded. Since 3,000 represents a small percentage of Towleroad's vast readership, the results may not reflect the entire readership's preferences. (Reminds us of the Iowa caucuses a bit, no?). Also, the survey did not allow rankings or multiple choices, so many responders who would have registered their interest in a number of topics could not. Thanks to many of those readers who noted this in the comments. Despite these flaws — for which I take responsibility — the survey results can still offer a general guide to the few topics that interest you the most.
4. I intend to use the results of the survey, but I am always open to comments and questions from all of you. On that note, I will try to do a better job in 2012 of responding to readers' questions. Sometimes, important and insightful questions pop up in the comments and I am often too busy to respond to them in detail. This year, I will endeavor to do better by responding to questions in a future post.
5. Please use the comments to add any thoughts/preferences for the 2012 column.
Continue AFTER THE JUMP for the survey results.
Which of the following LGBT legal issues would you most like to read about?
More than 75 % of respondents chose same-sex marriage, politics, the Defense of Marriage Act, and LGBT legal developments not in the news. Same-sex marriage and DOMA are the most significant civil rights issues facing our community at this moment, so it makes sense that these issues are on everybody's minds. I will continue to address these legal issues, in addition to politics, legislation, and elections affecting the LGBT community. I am also adding ENDA to this list.
That is not to say that the other topics are not important. This year looks to be even more of a whirlwind than 2011, so as issues come up, I will do my best to analyze them for you.
Notably, there were quite a few comments about my decision to use the phrase "same-sex marriage" instead of just "marriage" or "marriage equality." That issue is more fascinating that most people realize, so expect a future column about the words we use in our fights for civil rights.
What kind of legal posts would you like to see?
This question asked about format rather than substance, and about two-thirds of respondents preferred the current format of written legal analyses of ongoing issues and cases. I will continue to make this the bread-and-butter of Towleroad's legal column. That said, I have been trying to find opportunities for video blogs for interviews or debates with leading LGBT lawyers. It is important for the community to know the advocates leading the charge, so since 31 % percent of you were interested in these interviews/debates, I will do my best to make them engaging through various formats, whether video or written. Look forward to interviews with legal iconoclasts fighting the good fight.
***
Ari Ezra Waldman is a 2002 graduate of Harvard College and a 2005 graduate of Harvard Law School. After practicing in New York for five years and clerking at a federal appellate court in Washington, D.C., Ari is now on the faculty at California Western School of Law in San Diego, California. His research focuses on gay rights and the First Amendment. Ari will be writing weekly posts on law and various LGBT issues.
Follow Ari on Twitter at @ariezrawaldman.