Des Moines, Iowa couple Melissa and Heather Gartner sued the State of Iowa after it refused to list both of their names on the birth certificate of their daughter Mackenzie who was born in 2009. Polk County District Judge Eliza Ovrom ruled WEdnesday in favor of the couple, the Des Moines Register reports: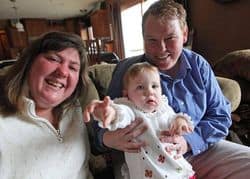 Ovrom's 12-page ruling stops short of declaring a constitutional right for same-sex parents to be named automatically on newborns' birth certificates. But it faults state officials for failing to correctly interpret older Iowa laws in light of the April 2009 Iowa Supreme Court decision that legalized same-sex marriages.
State administrators are bound by the 2009 case to interpret laws in a way that gives "full access to the institution of marriage," Ovrom wrote.
"Pursuant to Varnum v. Brien, where a married woman gives birth to a baby conceived through use of an anonymous sperm donor, the Department of Public Health should place her same-sex spouse's name on the child's birth certificate without requiring the spouse to go through an adoption proceeding," Ovrom concluded. "Petitioners have proven the Department's actions are in violation of law and based on an erroneous interpretation of the law…."
In a letter to the couple's attorneys last year, the Iowa Department of Public Health wrote that the state's laws "expressly recognize the biological reality that women and men each play a distinct but equally necessary role in human reproduction and have corresponding rights, duties and obligations to their child."
state lawyers argued in the case that gender-specific parenting rights make it legally impossible to replace a "husband" with a same-sex "spouse."
"If I had to summarize the department's case in one sentence, it would be this: It is a biological impossibility for a woman to ever legally establish paternity of a child," attorney Heather Adams argued at a hearing in November.
Previously…
Iowa Judge to Hear Birth Certificate Case Involving Lesbian Moms [tr]