Cee Lo Green is rumored to be performing with Madonna at the Super Bowl, MTV reports: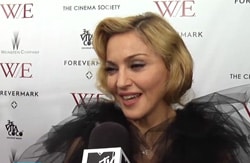 According to sources, the singer has asked "The Voice" judge to perform with her at the February 5 show. "The Insider" reports that he's been flying to New York to rehearse with the pop icon. The sources add that he will contribute his signature flair to some of her classic tunes.
MIA and Nicki Minaj have already been floated as possible guest performers.
Meanwhile, will.i.am is reportedly saying that LMFAO is performing with Madonna: "I'm going to the Super Bowl this year to see my group LMFAO perform with Madonna Check that out, Will.i.am Music Group is pretty freaking two for two. One year the Super Bowl the next year another group part of the Super Bowl in collaboration with Madonna. That's still happening."
Madonna joins Anderson Cooper February 2 on his daytime show.
A preview of that, plus Madonna talks about the Super Bowl at her W.E. premiere,
AFTER THE JUMP…