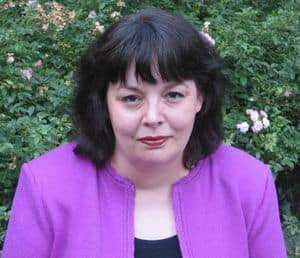 The religious right endorsements for Rick Santorum are coming hot and heavy in the wake of yesterday's conservative conclave. Now Maggie Gallagher, the hair-flipping etiquette coach and former head of the National Organization for Marriage, has issued her own, and Santorum's proudly flaunting it on his webpage.
Gallagher says she's especially impressed by Santorum's ability to "connect the dots" — to show how healthy families are necessary for a healthy economy and polity. And she praises Santorum for walking the walk, and for surviving liberals' attempts to "smear his good name":
The left, which thought it had buried Santorum years ago, is going after him with a hatred unmatched. They hate him with that special ire reserved for a man's virtues, not his vices.
They will go after him not just to defeat Rick Santorum, but to smear his good name, to associate it with their own muck, to take a decent and honorable man and try literally to make his name mean mud.
They will not succeed.
The American people, I promise you, are not going to reject a man they would otherwise support because he believes in traditional Christian views of sex and marriage. Especially when he believes-not just with his words, and not just with his vote, but with every action of his soul and his life-that a man's job is to support his children, born and unborn, to commit a loving and faithful marriage to one woman, and to devote himself to being a good dad.
That's Rick Santorum…
I guess this means the Santorum campaign's LGBT outreach efforts will be pretty limited.