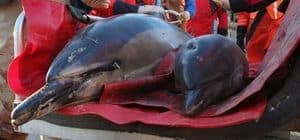 Last night, the AP reported that up to 30 dolphins spontaneously beached themselves on Cape Cod last night:
Kerry Branon of the International Fund for Animal Welfare says the common dolphins were found in Dennis, Brewster, Orleans, Eastham and Wellfleet on Saturday. She says of the 28 to 30 dolphins found, 10 to 12 have died and eight were inaccessible to rescuers.
There was no obvious reason for the beaching. Researchers took blood samples from the dolphins they were able to release. The analysis is forthcoming. I'd hoped that more info would be available this morning — what happened to the inaccessible ones? — but nope.
(Pic borowed from Masslive.)