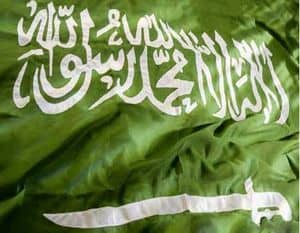 Last month, a 30-year-old man was arrested by the religious police in Saudi Arabia for using Facebook to pursue dates with other men, according to Gay Middle East. The man, whose name is not being released, was apprehended on December 23rd and is being held by the police in Dammam, on the Persian Gulf, where after what may be assumed to have been harsh interrogations by local authorities he confessed to arranging "obscenity acts" with members of his own sex.
Punishments for such acts in Saudi Arabia could include fines, flogging, imprisonment, and death. The severity of punishments for individual crimes are left to the discretion of Sunni religious authorities, and vary widely depending upon the identity of the offender. From GME:
Conviction and severity of punishments depends on the social class, religion and citizenship of the accused, whereby non-western migrant workers receive usually harsher treatment than upper class Saudi citizens.

Sami Hamwi, Syria Editor of Gay Middle East, and former Saudi resident explains: "Native born Saudi citizens who are Suni or from the Bedouin tribes in the country are often let off, while punishment are severely executed against minorities like Shiites and or newly naturalised citizens. Punishments regarding homosexuality are also held against expatriates working in Saudi Arabia, especially those coming from Asian, African and Arab countries. Dammam is a largely Shiite area and if the 30 year old aforementioned man is a Shiite, he is likely to be trailed and sentenced harshly."
News of the arrest came as British PM David Cameron embarked on a brief visit to Saudi Arabia. The British government, which in recent months has explicitly tied the well-being of global LGBTs to its foreign policy, was quick to voice concern for the incarcerated Saudi. Wrote a "British Foreign and Commonwealth spokesperson" to GME:
We are aware of the reports and seeking further information. The UK opposes all discrimination against Lesbian, Gay, Bisexual and Transgender (LGBT) people in all circumstances. We are committed to combating violence and discrimination against LGBT people as an integral part of our international human rights work. We believe that human rights are universal and that LGBT people should be free to enjoy the rights and freedoms to which people of all nations are entitled.
What effect, if any, Cameron's visit may have on the incarcerated Saudi is unknown. Because of the opacity of Saudi Arabia's religious courts, the man's trial and punishment may be conducted in secret.